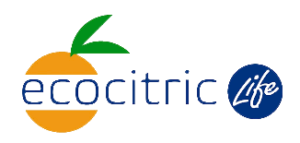 LIFE13 ENV/ES
2015
In 2015 this project aimed to demonstrate the viability of integrated management of pruning waste in citrus.
The project proves that leaves and branches from citrus plantations can be transformed into animal feed, essential oils, livestock bedding and biofuel.
Its ultimate aim is to introduce these new products created from waste into the marketplace instead of disposing them.
Partners: 
Ayuntamiento Vall d'Uixó (Spain)
FUE-UJI (Spain)
Heliotec (Spain)
Vermon Grupo (Spain)
AVA-ASAJA (Spain)