After two years of implementation, the Erasmus+ TTT-I project is coming to an end, having achieved its initial objective of developing and implementing a training methodology on non-formal language learning for migrants. The partners of this project in the framework of the Erasmus+ Strategic Partnership for Adult Education met in Warsaw, Poland, on 21-22 October in order to finalise the final details of the project.
The final meeting of the project was organised by the coordinator Fundacja Ad Meritum Foundation from Poland and allowed the partners to share the latest results of the project following the development of the TTT-I training programme focusing on non-formal learning methodologies with topics such as cybercafé, language tandem, coping with traumatic situations, awareness raising on cultural differences, socio-economic environment and cultural mediation for migrants. In addition, the partners have also shared feedback and results obtained after the dissemination events of the project material held in each of the partner countries (Poland, Spain and Greece).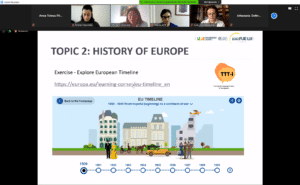 In addition to these events to present the results, the project consortium has disseminated the training materials developed, through the final Webinar of the project, held on 27th October in online format. This 2-hour webinar allowed participants not only to learn about the results of the project, but also aimed at guaranteeing access to these training resources to all those trainers who need them through the Cyber Café online platform, thus ensuring open international access to these training materials aimed at trainers of language trainers for immigrants or people in situations of social exclusion.